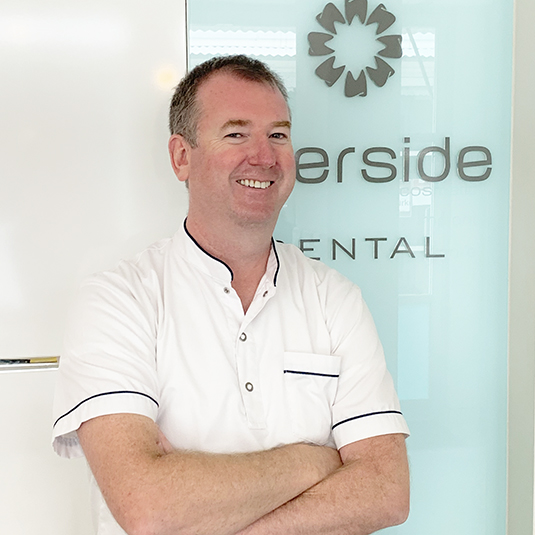 Originally from the United Kingdom, Dr Patrick O'Rourke's life has led him around the world, first to South Africa where he undertook elective training at the University of Witwatersrand Dental Department in Johannesburg and eventually to Australia. In Australia, he has worked from Swan Hill to the Snowy Mountains, from Byron Bay to Darwin with stops in Cairns which he loved. He is now proud to make his home on the Sunshine Coast, serving the community at Riverside Dental, which he created with the goal of enhancing his patients' lives through improved health, aesthetics and pain free living.
Dr Patrick O'Rourke is a graduate of Leeds University in the North Eastern part of the United Kingdom. Dr O'Rourke is originally from Derbyshire with strong family roots in the West Coast of Ireland. These days, he lives in Peregian Springs with his wife, Mary who is from Long Island, New York and their three children Tiernan, Shamus and Liam.During 1997, Dr O'Rourke undertook elective training at the University of Witwatersrand Dental Department in Johannesburg, South Africa where he travelled extensively through Africa and found it to be an amazing and beautiful continent.
Up until 2002, Dr O'Rourke worked in the United Kingdom and undertook his membership exams at the Royal College of Surgeons in London. Upon passing these exams, he was awarded membership to the Faculty of General Dental Practitioners, Royal College of Surgeons London, United Kingdom. In 2002/3 he travelled extensively and finally arrived in Australia where he undertook different engagements in rural and remote Australia, which proved to be a fascinating and eye-opening experience, and a great introduction to life in Australia.
Following two successful years on the Gold Coast, the O'Rourke family finally moved to the Sunshine Coast and embarked on opening Riverside Dental. Riverside has proven to be a great practice and has continued to provide excellence in dental and patient care throughout the years.
Continuing post graduate education has been the cornerstone of advancing the success of Riverside Dental. Dr O'Rourke has taken numerous postgraduate education courses at prestigious institutions in London including Eastman Institute, Kings College, Guys Dental Hospital and Oxford University Deanery.
In 2015 he graduated from the Kois Center in Seattle, Washington, becoming the first Queensland graduate of the programme. He is currently undertaking a Diploma in Aesthetic Sequential Aligner Therapy and will become one of the first graduates in 2017. He recently added Invisalign to his repertoire of treatments to enhance the offerings at Riverside Dental. He is proud to be able to use computer aided design (CAD) in smile design and implant therapy to reduce healing times and increase the success of treatments. Dr Patrick O'Rourke is also currently the only Dentist in Queensland to hold Graduate Diploma in Aesthetic Orthodontics.
He is very proud of having built Riverside Dental into a family practice that is dedicated to providing high-quality general, cosmetic and implant dentistry in a relaxed caring environment. His goal remains to enhance his patients' lives through improved health, aesthetics and pain-free living.
Dr Patrick O'Rourke is committed to excellence in patient care and dental practice, ensuring he stays up-to-date with the latest research and state-of-the-art technology. His dedication to research and further education has allowed him to advance his skills and offer his patients the highest standard of care.
Read more about the history and on-going development of dental treatments in Dr Patrick O'Rourke's academic articles.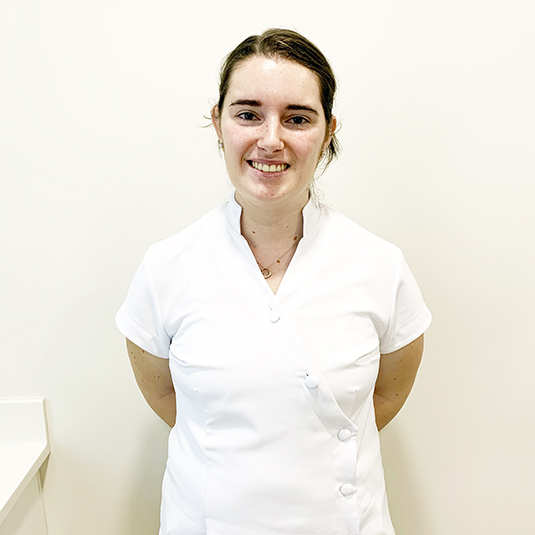 Tessa has been in the dental field for 6 years, starting out as a Dental Assistant. After a few years of hard work and dedication, having relocated to Rockhampton away from family and friends, she has just graduated from Central Queensland University in 2020 with her Bachelor of Oral Health. Tessa is ready to start her Oral Health Therapy journey at Riverside Dental, bringing an array of knowledge on the importance of maintaining a healthy smile. She is passionate about educating her patients on the prevention of gum disease and tooth decay, giving guidance and encouragement at each treatment visit.
Having grown up on the Sunshine Coast, calling Noosa her home since she was a little tucker, Tessa is excited to start her career with the beaches and national parks on her doorstep, and of course with her family and friends at arm's reach!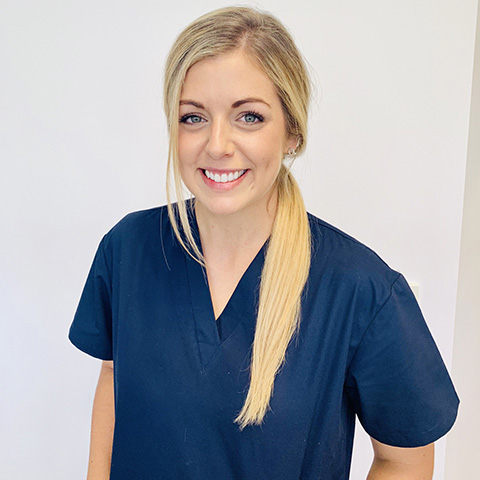 Qualifications: BoH(DSc) G.Dip Dent (QLD)
Nicole is a gentle and caring dentist who completed her dental degree at Griffith University with awards in academic excellence and the School of Dentistry Prize in Oral Surgery. Since graduating, Nicole has gained experience in both public and private clinics across South East Queensland. Nicole has also been actively involved in volunteer programs for communities in rural Queensland.
Nicole is passionate about providing an exceptional standard of dental care for both adults and children. While Nicole enjoys all aspects of general dentistry, she is most passionate about providing outstanding patient centred care. Nicole takes the time to listen to her patients to ensure she provides a comprehensive and personalized plan tailored to her patients' priorities. Nicole welcomes nervous and anxious patients and enjoys helping people until dental visits become a relaxed and friendly experience.
Outside of dentistry Nicole spends most of her time with her adorable Labrador named Jasper (Jazz). Nicole enjoys exploring the beautiful Sunshine Coast beaches and making the most of our incredible climate.